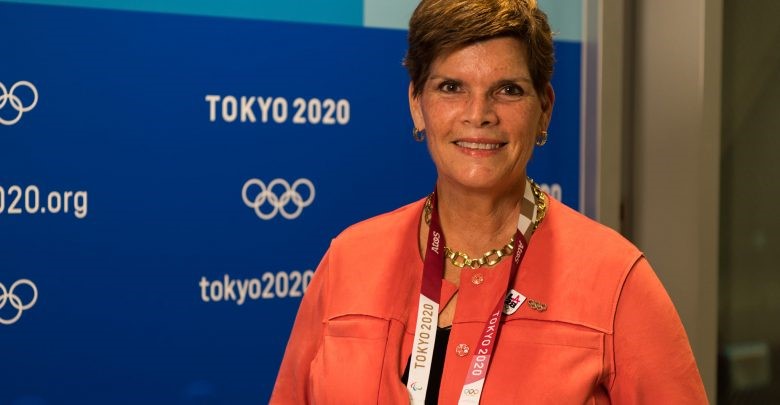 Nicole Hoevertsz di Aruba a bira Vice Presidente di Comite Olimpico Internacional, IOC
Un momento sigur grandi y historico ora cu diamars anochi laat, e secretario general di Comite Olimpico Arubano, Sra. Nicole Hoevertsz a keda eligi como e vice-presidente di e organo pa mas halto di e deporte mundial esta Comite Olimpico Internacional.
"Si bo a puntrami algun anja pasa si mi tin pensa di bira vice-presidente di IOC, mi lo a bisabo no, paso esey lo ta un sonjo cu nunca lo bira realidad pa motibo cu mi ta bin di un isla chikito. Pero danki na mi coleganan den IOC e sonjo aki a bira un realidad", Nicole a bisa den su prome palabranan durante e Asamblea General di IOC na Tokyo, Japon.
Segun Nicole ta sigui conta cu nos ta bini di un isla chikito y nos deporte no ta conoci ainda, no sobresali mundialmente y den e mundo Olimpico nos no a gana un medaya Olimpico ainda. Pesey mes tambe pa yega na un puesto asina halto den e IOC ta algo grandi.
"Mi ta bin di un isla chikito, mi ta hende muher y den un principio nunca mi tabata tin e ambicion pa bira vice-presidente di IOC. Mi ta un hende cu gusta deporte y traha pa deporte pero nunca cu un meta mi dilanti cu un dia mi lo kier bira vice-presidente di IOC. Pero dado momento bo ta desaroya bo mes di un pa e otro y sinja mas y mas. Den IOC nan ta encurasha bo crece y bay padilanti den bo funcion, bo responsabilidadnan ta bira cada bez mas grandi, bo ta tareanan ta bira mas pisa".
Ya for di algun anja caba, Nicole mester a drenta como miembro ejecutivo di IOC, pero debi na su trabou na Aruba e no por a combina esaki te ora cu e oportunidad a presenta. Y ora esaki a presenta y riba insistencia di actual Presidente di IOC, sr. Thomas Bach, Nicole a tuma e desicion cu e ta pone su mes disponibel pa bira un miembro ejecutivo di IOC, y esey a pasa 4 anja pasa na 2017. E anja aki e propio Bach a propone na Nicole pa e postula su mes pa vice-presidente, cual e no tabata tin den mente. Nicole den prome instante tabata duda si e lo ta cla pa e funcion asina importante. Despues di e evalua Nicole a dicidi di postula su mes mirando tambe cu no tin un hende muher actualmente cu e titulo ey. Mester bisa cu na final di e eleccion, Nicole Hoevertsz a haya 72 voto na fabor y 7 voto encontra.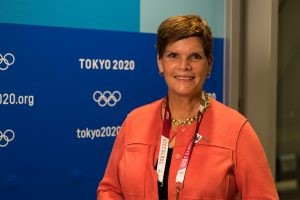 Nicole a haya masha hopi felicitacion di Hulanda, entre otro Rey Willem Alexander cu a manda Nicole un mail felicitando su persona pa cu su funcion nobo. Y sigur tambe di e continente di America, coleganan di Panam Sports, ODESUR y ODECABE, tur tabata super content y e apoyo tabata inmenso na su persona.
"Un apoyo total, algo sigur hopi bunita. Algo cumi a pusha semper ta pa logro lo maximo den cualkier funcion, sali for di bo comfort zone. Esaki tamabe mi ta sinja e hende muher y e hende hobennan cumi ta traha cu nan. Bo tin cu 'step up to the plate' y bay pe. Den tur mi charla y curso nan mi ta papia riba esaki. Una bes bo ta sinti bo mes cla, no duda den bo mes, no tene miedo, bay pe, traha duro y bo lo logra".
Nicole a compara e mensahe aki mescos un lift. Bo tin cu subi esaki pa e hibabo ariba, pero e mas importante ta cu bo tin cu manda e lift bek abou pa asina mas hende por subi den esaki y bay ariba cune pa asina nan tambe yega eyriba.
Na final Nicole a manda un bunita mensahe pa tur esnan eyfor cu un dia kier logra algo den bida
"Mi tata semper a sinjami sonja den grandi. Si bo kier logra algo den bida nada no ta imposibel. E hecho cu awe ami a wordo eligi como vice-presidente di e organisa mas halto di e deporte mundial ta algo increibel. Nunca nada no ta imposibel. Bo tin cu traha duro, nada no ta bin como regalo y no ta cay foi shelo. bo tin cu sacrifica. E ta henter un bida cumi a dedica na e deporte paso mi ta convenci cu esey ta e cos di mas bunita y mas imporante pa crea un mihor mundo y crea un mihor pais. Semper ma kere den mi mes y e resultado y logronan cu lo bay tini na final ta dunabo e satisfaction cu niun hende no por kita mas for dibo".