News
Ricardo (Cai) Helder (1927 – 1981)
Futbol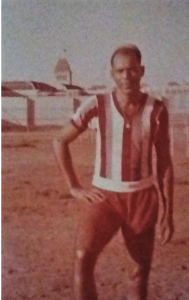 Ricardo Helder miho conoci como Cai, a forma parti di e seleccion di futbol di Antias Hulandes na e Weganan Olimpico na Helsinki na 1952. Cai cu ta hunga e posicion Cai a lanta den bario di Rancho na Playa. Na edad hopi jong el a perde su mama y tambe su tata e conocido Garibaldi (Ba) Helder. Cu su 14 aña e mester a bay biba riba su mes den e bario di Companashi na Playa un tiki pabou di e veld (esun bieu) di RCA. Despues
di su matrimonio na 1947 nan a biba henter nan bida den e bario di Sividivi na Playa. Cai for di tempran caba a cuminsa hunga bala pa RCA di Solito y ta caminda cu el a keda hunga bala henter su bida. Como futbolista
den e division di honor Cai semper tabata un di e hungadonan estelar y ehemplar di su club RCA. Pa e fanaticada di futbol e tabata conoci como un bon hungado di bala, habil cu e bala y sportief. Hopi biaha e tabata e capitan di su ekipo. Despues di un carera di futbol impresionante, el a keda hunga como veterano pa e team di Inter di RCA. Despues tambe el a fungi como entrenado y tabata miembro di directiva di RCA. Na e edad di 53 aña Cai a fayece inesperadamente den un accidente di auto. E tabata un bon tata di famia y un persona y un futbolista hopi respeta y stima cerca tur cu por a conoc'e na Aruba y den exterior. Te den exterior unda cu el a hunga diferente biaha pa su team RCA, pa e seleccion Antiano y despues pa e seleccion di Aruba den e campeonatonan di CCCF, el a laga un impresion bon atras y alabes bunita recuerdonan di e como un persona humilde y di su rol clave y presencia prominente y evidente den su ekipo. Na aña 1981 algun luna prome di su fayecimento el a ricibi e condecoracion real di Lid in de Orde van Oranje Nassau.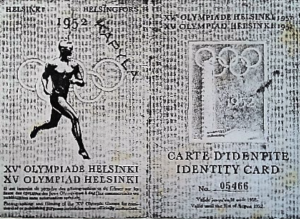 Den e Campeonato aki di CCCF na 1953 cu a tuma luga na San José, Cai a hunga den tres di en total seis partido cu Antias Hulandes a hunga. El a hunga contra Guatemala cu a keda tabla 1-1; den e partido cu Antias
Hulandes a hunga contra Nicaragua cu Antias Hulandes a gana 8-0; y contra Panama cu Antias Hulandes a gana 4-2.
Den e Campeonato di CCCF na 1955 na Tegucigalpa, na Honduras, Cai a hunga den tres partido cu ta: Aruba contra Costa Rica 2-3; Aruba contra Corsou 1-2; Aruba contra El Salvador 0-2.
Den e Campeonato di CCCF na 1957 cu a tuma luga na Willemstad, aya na Corsou, ningun Arubiano a hunga den e team di Corsou. Si un seleccion di Aruba a hunga algun wega amistoso despues di e campeonato aki. E weganan a tuma luga na Oranjestad y aki Cai a hunga den e siguiente weganan: Aruba-Panama 2-2; Aruba-Haiti 3-1; Aruba – Haiti 2-2.
Den e Campionato di CCCF na 1961 cu a tuma luga na San José, Cai a hunga pa e seleccion di Antias Hulandes contra Hunduras. Hunduras a gana cu e score di 4-2.
Ken tabata Cai Helder29?
Pai tabata un persona basta streng, pero en realidad e tabatin un curason enorme, semper cla pa scucha y yuda aunke esey por cost'e placa of hopi di su tempo liber. Mi ta corda con tempo nos tabata chikito y nos no tabata tende di mi mama e tabata bisa nos: "si boso no ta tende di mi ora Pai yega atardi boso ta haya". Ora e yega e ta hala nos un banda, scucha nos, ta kinipi wowo cu nos y e ta bisa: "corda e biaha 'ki bo ta scapa pero corda tende di Mai". Tur vakantie di scol ta cuminsa y caba cu un buitendag cu famia y amigonan. Atardi of den weekend nos tabata hunga futbol na cas, bou di garashi. E team consistiendo di Mai, Win cu Roy contra Pai, Magda y ami. Hopi pret! Mi ta corda tambe con Mai semper tabata zorg pa Pai su uniform ta limpi hinca den un handbag, colga na un clabo banda di bentana. Prome cu cada wega e sapatonan mester a haya nan polish, pa nan briya. Ora Pai yega atardi di trabou y tin wega of training e ta hunta su pia cu zeta di masashi, lora su pia strak den verband y bisti un par di mea riba otro pa proteh'e. Por ultimo ta bin scheen- y kniebeschermer.
Si tin training mas anochi, nos ta cana cu Mai bay veld busca Pai.
Di e tempo cu el a cuminsa hunga bala cu RCA e tabata bisa cu ta hopi bon hungado tabatin y si bo kier haya un chens pa hunga, no solamente bo mester ta bon pero bo mester tin disciplina, zorg pa bo t'ey na ora, train pa bo ta miho cu e otronan, wak bo ta representabel, wak kico bo ta papia, paso ta hopi caiman tin na boca di riu.
Pai a hunga pa su ekipo RCA den varios posicion. Mas tanto, e tabata e centrale spelverdeler (centerhalf). Den seleccion e sa ocupa e posicion di rechtshalf. E spelverdeler ta un posicion hopi clave den un team. Si esey no ta funciona debidamente e team no ta acopla, ey e wega ta wordo arma. Pa por ocupa e posicion ey ta rekeri un condicion fisico hopi bon. Ora di atake contrario tin cu baha pa yuda e defensa. Ora bo team ta atacando bo tin cu subi pa reforsa e delanteronan. P'esey tambe Pai tabata hopi biaha e capitan di e team.
Pai a planta e amor pa futbol den su yiunan. Roy pa hopi aña a transmiti futbol cu su ekipo di transmision 1270, a hunga futbol e.o. pa CARAVEL. Win tabata un di e hungadonan hubenil di Aruba y despues na grandi e tambe tabata futbolista estelar di Aruba, hungando e posicion di bek central. El a bisti e camiseta di RCA pa hopi aña.
Despues el a bira entrenado di RCA y despues di e team di Aruba. E ultimo añanan e tabata forma parti di e veteranonan di Inter. Bou su guia el a sa di hiba RCA pa bira campeon.
Pa finalisa: trinticinco aña despues di su morto ainda cu hopi respet nan ta papia di dje. Ainda hendenan cu ami no conoce ta bira emocional ora nan haya sa cu Cai ta mi tata. Pa mi esey ta e honor di mas grandi cu un ser humano por haya despues di su morto. Mi ta convenci cu futbol a contribui grandemente den formacion di su persona kende tanto hende ta aprecia. E disciplina cu futbol a exigi di dje no solamente a proteg'e di bay den mal caminda, pero a amplia su horizonte, su mente. Futbol p'e no tabata simplemente un deporte, e tabata e yabi pa un miho bida cu nos por a comparti cu ne. Na nomber di mi mama sra. Rosalia Helder-Loopstok (q.e.p.d.) mi ruman Magda, Roy, Win y mi mes Miriam Helder: un palabra di danki ta bay na Comite Olimpico Arubano, pa e honor duna na Pai, Ricardo Nemesio (Cai) Helder.