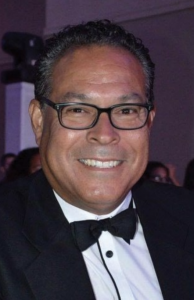 Alonso Tromp tabata president di Comite Olimpico Arubano di 2000 te cu 2003. Otro miembronan di e directiva tabata Marcolino (Nilo) Croes, vice-president; Nicole Hoevertsz, secretaria general; Mary Hsing, segundo secretaria; Jerry Gomez (d.f.m.) tesorero y comisarionan Richard Kelly, Michael Lopez, Igmar Davelaar y Frank Velasquez.
Sr. Tromp ta conta: loke cu mi ta corda di nos atletanan cu a participa na e Weganan Olimpico na Sydney, na Australia na 2000 ta, cu nan tabata nos miho atletanan na Aruba y kendenan cu a haya un experiencia olimpico pa competi hunto cu e grandinan of miho den mundo.
Mi mensahe den cuadro di e conmemoracion y celebracion di e 64 aña cu nos atletanan nacional ta participa na e weganan olimpico ta, cu mi ta di opinion cu Comite Olimpico Arubano ta den e bon rumbo. Mi ta corda ainda cu den nos periodo nos a start cu e comisionnan tecnico, medico, anti-doping y cu ful un plan di maneho nobo pa Comite Olimpico Arubano, den cual awo nos por mira su balor of miho bisa su frutanan.
Mi ta haya si, cu for di e presupuesto di deporte, mester reserva mas placa pa nos atletanan, si Aruba kier mira resultado di medaya den e ciclo olimpico (Odesur, CAC Games, Weganan Panamericano y Weganan Olimpico). Por ultimo mi tin un conseho pa e directiva di Comite Olimpico Arubano y e Comision di Subsidio, y esaki ta pa nan ta mas consciente cu e presupuesto mester ta mas balansa entre nos federacionnan afilia na ASU y Comite Olimpico Arubano.