News
Seminario Anti-Dopahe organisa pa COA
Dianan 8 pa 10 di juni algun evento importante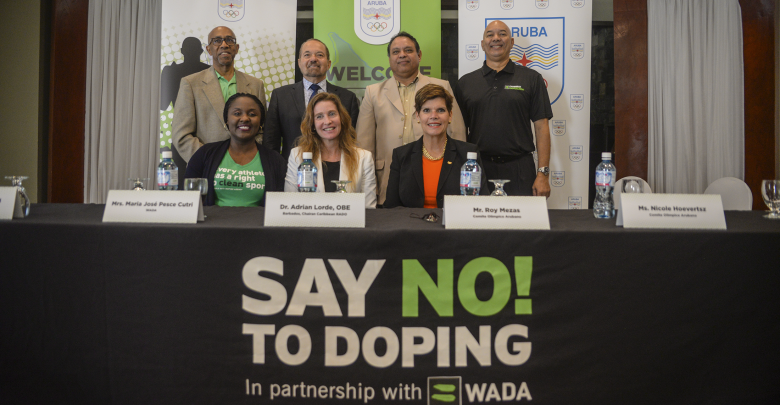 Seminario Anti-Dopahe organisa pa Comite Olimpico Arubano bou auspicio di WADA y RADO lo ta e fin di siman aki na Holliday Inn Resort
E dianan 8 – 10 di juni benidero lo tuma lugar algun evento importante riba tereno di anti-dopahe na Aruba. Durante tres dia Comite Olimpico Arubano den colaboracion cu WADA y RADO ta organisa den e Ball Room di Holiday Inn Resort diferente actividad di anti-dopahe.
Riba diasabra 9 y diadomingo 10 di juni ta tuma lugar respectivamente e Asamblea Annual di RADO y un TUE-Training pa mediconan.
Diabierna 8 di juni ta tuma lugar un Seminario Anti-Doping den cual specialistanan di RADO lo trata e temanan di Whereabouts y e Procedura di Testing. E seminario aki ta specificamente pa atleta y dirigentenan activo di nivel nacional y internacional di e federacion.
E Orador pa e seminario aki lo ta Dr. Adrian Lorde, Presidente Caribbean RADO y tambe Director of the Barbados Olympic Association Inc. and President of the Barbados Sports Medicine Association. Actualmente su persona ta Secretary of the Pan American Sports Medicine Federation como tambe Chairman of the National Anti-Doping Commission of Barbados. Dr Lorde ta miembro di e Comision Medico di e Central American and Caribbean (CAC) Games, y Pan American Games Sports Organization esaki desde 1993.
E RADO Board Meeting ta e Asamblea Anual di RADO na cual ta participa exclusivamente e directiva di RADO, Sr. Patrick Werleman ta e representante pa Aruba y den e calidad aki e lo ta participa na e Asamblea aki. Den e Asamblea aki ta wordo discuti asunto importante riba tereno di Anti-Doping.
E TUE-Training
Ora un atleta ta usa medicina cu ta riba e lista di doping di WADA, e atleta aki por haci un peticion formal pa e haya un excepcion pa usa su medicamento. E peticion aki ta wordo evalua dor di e Comision TUE. E training di 10 di juni ta pa, hunto cu otro miembronan di Comision TUE di otro paisnan miembro di RADO, repasa procedura y reglamentonan di TUE. Pa Aruba lo dr. Ricardo Vargas, dr. Dyani Giel, Dr. Yvette Thuis, Dr. Sandy Roga, dr. Randy Tromp y dr. Emile Westrate. E training ta wordo duna pa Dr. Carl Ward, presidente di e TUE Commission di RADO.
Ta bon pa bisa aserca cu diabierna mainta ehecutivonan di RADO y WADA hunto cu representante di COA a reuni cu Minister di Turismo, Salubridad Publico y Deporte, Sr. Dangui Oduber pa papia riba asuntonan di anti-doping na Aruba.