News
Baseball 5 ta hasi su entrada na Aruba
Otro siman na Aruba nos lo haya bishita di dos representante di WBSC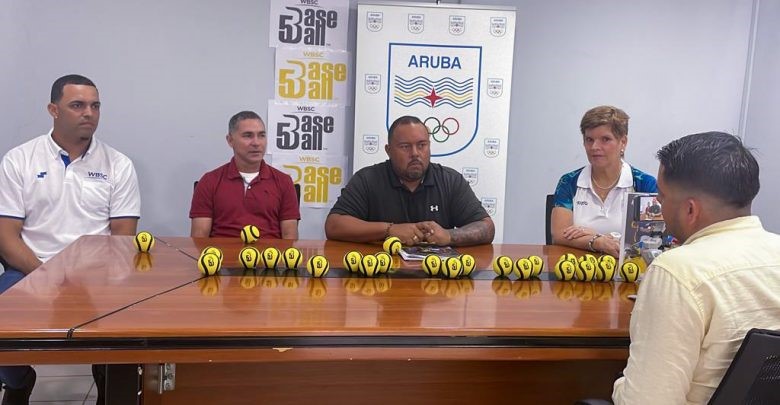 Awe na oficina di COA, Secretaria General di Comite Olimpico Arubano, Nicole Hoevertsz hunto cu Randolph Oduber, Lyrick Pourier y Edgar "Gaachi" Erasmus a papia riba e deporte di Baseball5 y un seminario cu lo tuma lugar otro siman na Aruba. Nicole ta splica cu tur cos a inicia den un encuentro cu Presidente di World Baseball Softball Confederation, Riccardo Fraccari, algun luna pasa, caminda el a stimula pa Aruba participa den Baseball5. Aki e entusiasmo di COA a inicia y a drenta den contacto cu e beisbolista Randolph Oduber p'asina duna inicio na e proyecto aki pa Aruba.
Otro siman na Aruba nos lo haya bishita di dos representante di WBSC cu lo bin duna splicacion na diferente scol y organisacion, pero tambe lo duna un seminario na diferente instructor, p'asina por cuminsa desaroya e deporte aki na Aruba. Baseball5 ta un formato nobo di baseball, caminda ekipo di 5 hungador ta hunga contra otro, un wega di 5 inning y 3 out. E ekiponan ta consisti di mucha homber y mucha muher, stimulando asina igualdad di genero.
Baseball5 ta wordo practica riba un veld mas chikito y no tin uzo di glove ni tampoco bat. No ta permiti homerun, no tin pitcher y no tin catcher. E atleta na turno tin e bala di rubber y e ta dal esaki cu su plant'i man of mokete pa pone e bala den wega.
Pa tur esnan cu ta interesa pa forma parti di e seminario cu WBSC lo duna riba Baseball5, por tuma contacto cu IBISA of COA p'asina por inscribi. E participacion no tin un costo na dje danki na e cooperacion di Comite Olimpico Arubano. Pa un persona haya su certificado di participacion e lo mester participa na tur tres dia di Seminario cu lo ta 14, 15 y 16 di december proximo.
Na mes momento esaki ta un oportunidad pa nos hobennan practica un deporte nobo y asina tin e posibilidad di yega na participa den e Youth Olympic Games na 2026.